Welcome to the Storybook Santa Experience, 2020
---
The Magical Storybook Santa Experience at Zeller Photography is right around the corner!
---
The Storybook Santa Experience has become an annual favorite at Zeller Photography. See your children's faces light up as Santa unlocks the magic of the season for them. Santa has a wonderful way of drawing in even the shyest children as he plays, visits, and shares magical stories about Christmas, the North Pole, his reindeer, and his trip around the world on Christmas Eve.

We have filled this Santa site with lots of great information to help you feel confident about the experience you may expect from your visit with Santa. You'll also learn about our artistic style as well as the magical art that our clients most enjoy. Please take a moment to review to help you make the most of your experience. Then, you may view our calendar for available times and book your visit. Your 30-minute visit offers a private encounter just for your family, and it may include up to 3 people (pets are people too). For larger families, we will ask you to book two visits to allow each child to have quality time with Santa.
Currently Booking:
"Santa's Toy Shop", October 24th
"Winter Wonderland", November 7th.
Book an Appointment

We have the opportunity to book Sunday, November 8th, in the afternoon for a Winter Wonderland experience. This is a tentative date, so please call or text the studio asap to let us know if this accommodates your schedule best. We'll confirm the date with Santa! 918-663-0079
Concerns about COVID-19, please scroll to the end to review the actions we are taking in an effort to keep our guests, employees, and community safe.
Santa's Toy Shop At the Toy Shop, children get to make-believe that they are painting toys and having cookies and milk with Santa. They may even spot Rudolph out the window, as he pulls the sleigh through the sky. Santa has a wonderful way of drawing in even the shyest children as he plays, visits, and shares magical stories about Christmas Eve.
Winter Wonderland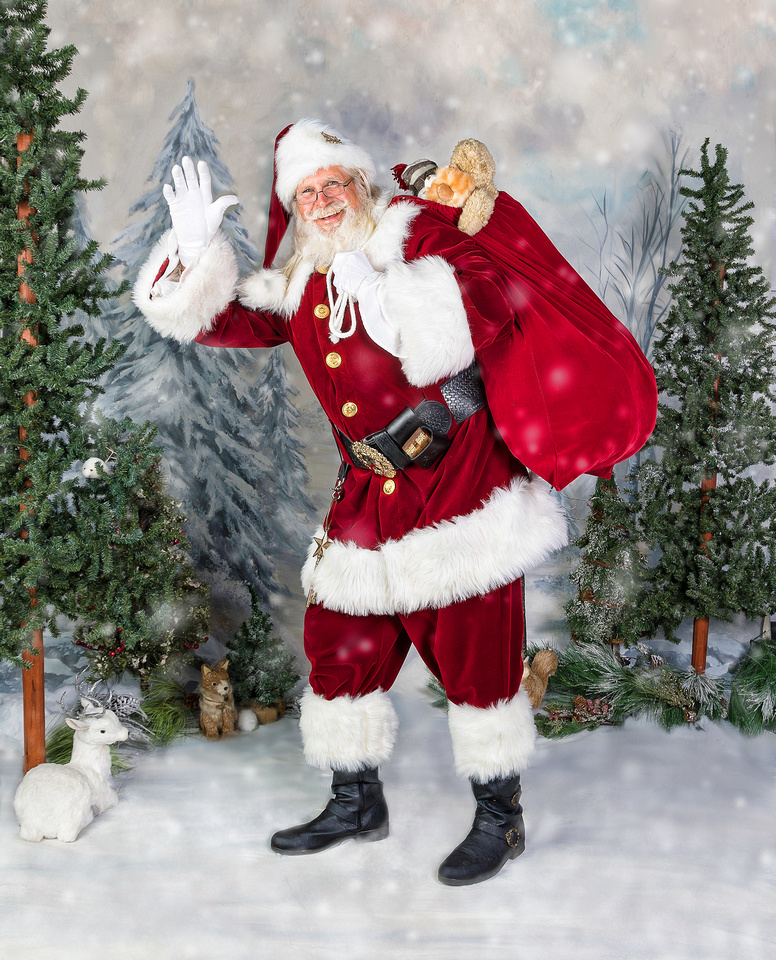 The Winter Wonderland Santa Experience offers a fun adventure in the snow. The atmosphere offers playful options for your children as they interact with Santa and each other. Your children can play in the snow, have a snowball fight, and even pretend to build a snowman with Santa. Santa's warm smile and gentle personality offer reassurance for shy ones, and his sense of humor draws those genuine smiles and giggles from the older kids in spite of themselves!
The deposit to reserve your 30-minute Santa experience is $250. This includes a product credit of $150. We offer a variety of Santa art products to fit every budget, including gifts, cards, storybooks, and more.
Click for more information about Storybook Santa Art Products.

You may reach us at the studio with questions or inquiries. Studio hours are Monday - Friday 9 am - 5 pm. If you do not reach us during office hours we are likely serving another client. Please leave a message or send a text and we will respond promptly. 918-663-0079
COVID-19 Screening Questionnaire

Our response to COVID-19
The safety of our clients and employees is our overriding priority. As the coronavirus (COVID-19) pandemic continues, we are monitoring the situation closely and following the guidance from the Centers for Disease Control and Prevention and local health authorities. In order to prevent the spread of the coronavirus and reduce the potential risk of exposure to our community, we are asking everyone to complete and submit COVID-19 Screening Questionnaire, prior to entering the studio.

We will remain aware of any updates in our community as we progress into the season. If cancellations or date changes become necessary due to COVID-19, we will make the health of our clients and community a priority. We ask our clients to be flexible with any necessary scheduling changes that may arise.
The studio sanitizes community areas between clients. Hand sanitizing is available and encouraged throughout the studio. Masks are available. Your photographer will wear a mask and maintain a distance. We have altered our typical session procedures to avoid closer interactions with Santa. Children will not sit on Santa's lap. The interactive set design that we provide offers the ability to achieve fun interactions and beautiful images while allowing for space between Santa and our guests.
Treats that we make available to our clients to enjoy after the visit will be individually packaged, and we ask that you take them with you to enjoy on the way home this year.
Deposits remain non-refundable for any other reason than that of illness. Please review the Cancellation Policy. This year, if the client or any member of their household answer yes to any item on the COVID-19 Screening Questionnaire, we ask that you do not enter our studio. Please notify us as soon as possible by calling or messaging 918-663-0079. Santa and the Studio agree to reschedule or refund your deposit when rescheduling is not possible.