Preserving your Memories
Our Storybook Santa clients may choose from a variety of timeless and archival art products to enjoy for years to come. Products are reviewed and planned when we meet together at the studio following your portrait session. This meeting will be your ordering and design meeting and usually takes place a few days after your session. All decision-makers are encouraged to attend. We offer up to two hours to allow plenty of time for you to enjoy this process. We'll have snacks and beverages, as we review your favorite images and discuss the best ways for you to enjoy them.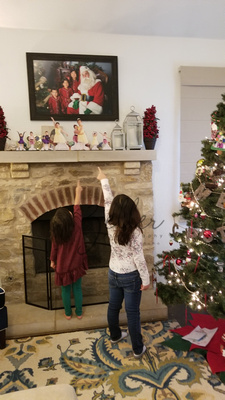 Santa Mantle Portrait
Art for your Home:
Imagine your kid's growing excitement you decorate your holiday home with beautiful memories of their visit with Santa. Custom wall art graces the majority of our clients' homes. Typically, we will create a portrait or grouping in a metal or canvas finish designed and sized appropriately for your walls. Storybook Santa art is the perfect accompaniment to your traditional holiday decorations. Each year, you may look forward to decorating when you can bring back the Storybook Santa artwork to display in a focal point area through the holiday and winter season.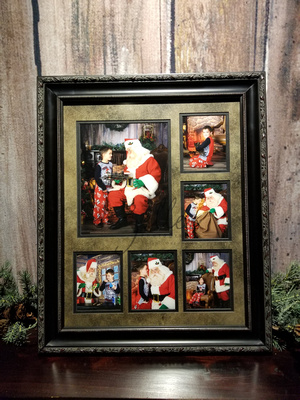 20171212_135446
Gifts and Cards:
Gift products are available with a range of options such as desk art portraits, ornaments, block art, frames, and more. Holiday art cards are also available. Gift products start around $50. Gift products and art cards may be included in your collection as a gift with your purchase at certain ordering levels, adding additional value to your investment.
The Storybook:
The Storybook is available in a couple of design options and is the product that offers the most enjoyment to our clients and their children in the coming years. Though it is by no means a required purchase to attend a Storybook Santa session, many of our clients attend with this goal in mind. When we create a Storybook Art Album your beautiful images receive a painterly art treatment. Pages are designed with the option of a personalized story to highlight and remind your children of the experience that they had. Two styles of the album are available with canvas and leather covers. The quality and durability of our albums stand the test of time and are meant to travel with your children in hopes that one day, they will enjoy reading it to their own children on Christmas Eve. Art Albums and Storybook Albums start at $955, which accommodates a collection of 10-14 images, depending on your album style of choice. You have the option to add as many images and pages to your Storybook as you like. We can often include some of the gift items that you wish to own as gifts with your investment in a Storybook Album.
20191105_155340
20191105_155414
20191105_155257
20191105_155459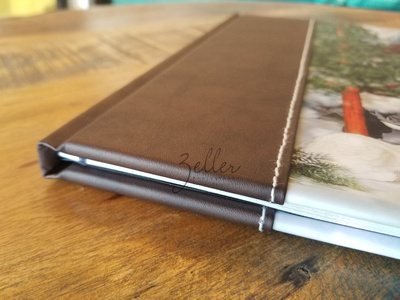 20191101_130933
20191105_155509