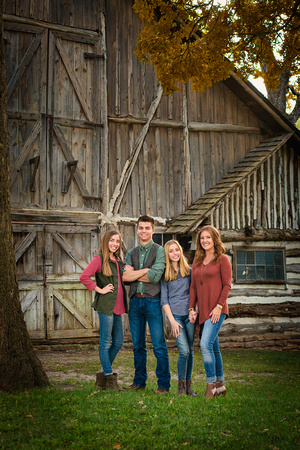 FamilyRustic Fall Family Portrait Sitting

The Classic Portrait Sitting, $650
When you choose a Zeller Photography Classic Portrait Sitting, you may trust that you will receive the highest level of care for the beautiful outcome that your family will enjoy, both now and in the years to come. The Classic Portrait Sitting may capture your family, a couple or engagement, a milestone for a baby or child, or even your pet. We offer an experience that is tailored to suit your needs and goals. Included in this service is a complimentary planning consultation, the sitting, which typically takes about an hour, and a product design consultation after the sitting.
The Planning Consultation:
Typically, the planning consultation takes place at the studio, offering the opportunity for you to get to know your photographer and view the variety of art products that our studio offers. We will address your goals, plan the location and scheduling of the sitting, discuss product options as well as a potential wall art design for our images, and address any other concerns or questions that you may have. The location of your sitting will be determined by your wishes. We offer in-studio, in-home, and a variety of environmental locations.
After the Sitting:
Next, we will meet for your ordering consultation. This meeting typically takes place 2-5 days after your sitting.
This is the fun part when we get to share with you the images that we captured and help you envision the fun ways that you may enjoy your new art. We offer up to two hours for the ordering consultation, allowing plenty of time to enjoy viewing the beautiful images that we captured, choosing your favorite images, and creating a plan for how your new images will be displayed in your home. All decision makers should be present at this meeting. Plan ahead to allow yourself the time to enjoy this part of the process.
About our Products:
Zeller Photography Studio specializes in fine art and other archival quality products. Each image that you select will receive the artistic treatment appropriate for the product that you choose. Our products stand the test of time for generations to come. The favorite wall portrait finish continues to be fine art canvas. We offer the highest quality of canvas available that results in a gorgeous texture with beautifully managed colors. If you desire a more modern touch, many frameless options are available including gallery-wrapped canvas and float-mounted metals.
Many of our clients enjoy our fine leather portrait albums as a way to enjoy their favorite images. This product offers a beautiful way to display your favorite images now and a practical way to enjoy them in the years to come. These are the products that are sure to someday be passed to the next generations in your family's legacy.
We also offer mixed platform product options if you would enjoy companion digital images to go along with the art that you choose. Gift items are available such as desk art portraits, ornaments, and art cards. Gift items start at around $50. Your budget will vary based on your product needs.

The deposit to reserve most sittings is $650. This typically includes a $400 product credit. Special considerations may apply to certain locations or circumstances, such as special permit requirements or travel to certain destinations.
Please call or text the studio to inquire about or schedule your portrait consultation. 918-663-0079